About Sam
Restaurant Chez Sam is actually Chez Samuel for the insiders. Samuel, a farmer and breeder based in the heart of the Allier, has been in a family farm since 1992. Passionate about nutrition, nature, animals and health, he has constantly developed his own way of cultivation, borrowing – far from partisan quarrels – from several types of agriculture, in order to build his own alternative method – a common sense-based agriculture: "sensiculture". A holistic vision, which assume that quality is a cycle, a chain, from the field and the garden to the plate, which only works as much as one knows how to look at nature, listen to life and respect all the actors of this channel.
Common sense…
Serving the senses
Photos: top, Charolais herd at the pastures in Samuel's farm (Allier 03). Right Samuel Michaud on his farm
Restaurant Sam's way founder, La Marguetière, Sam's way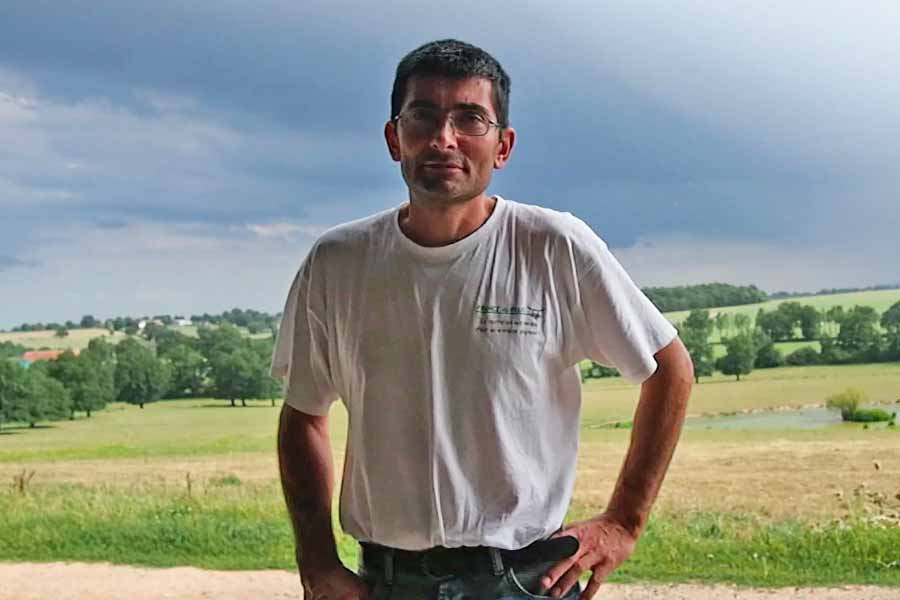 Samuel is a passionate breeder of nutrition and health, passionate about rurality and biology, biochemistry. Passionate about causality, and passionate about peasant common sense. Who wants that by feeding very adapted to all levels of the chain, of the food cycle, everyone is better, from the earth and soils, the forages that grow on these soils, the vegetables and animals that feed on these plants, and finally, we humans, the top of this food chain that feeds all this and feeds all this.
Samuel call for a respectful and very natural method of breeding. On its farm, no use of chemical fertilizer for more than 15 years, no industrial food for more than 10 years, care mainly in natural medicine – (antibiotics are close to 0 for 4 years). In 2013, to increase the quality of its production and eliminate imports of ruinous and highly polluting industrial food, he invented its unique nutrition formula, bio-inspired by ruminant,allowing to feed animals very healthily, by valuing forages and forage cereals local, promoting the local and circular economy. And by reaching a quasi-autonomous food.
Samuel's bio-inspired farming method brings real well-being to animals, and the quality of meat is exceptional, it is recognized by the players in the sector from merchants to butchers, chefs, consumers. Ditto for cheese productions. The animals on the farm are beautiful and in very good health – veterinary costs are 4 times less than the departmental average (breeding is visited in groups and by appointment).
Today this concept Aliplus de Fabrication d'Aliment à la Ferme, 100% French by Samuel Michaud is adopted by hundreds of ruminant breeders in France who wish to regain independence and food autonomy, and for more respectful, qualitative and virtuous productions with respect for animal welfare. It is exclusively the production of the best of these cattle farms that you will find Sam's way.
Restaurant Chez Sam is also the defence of rurality. The concept is to reopen places of conviviality in wasteland (La Marguetière is the first, others are in preparation). The restaurant also includes a "Ma France Nature" farm shop offering new, fairer opportunities for local, eco-friendly and French artisanal productions on short circuits, including sensiculture products. Du Côté de Chez Sam, it is also a neo-peasant restaurant by a sensing breeder who wants to meet the public and explain the profession of French farmers
Sam's way and Ma France Nature want to respond to both the needs of sustainable development, the expectations of consumers and consumers; to the needs of the regions and territories. It is a utility company and a company of pleasures, pleasures to share around tables and around know-how that are our cultural and gastronomic identity peasant and french. Thanks to you who read these lines and thank you to all those who will come to "enjoy French" and "regal Peasants", Sam's way!

Freshness, greedy and natural flavors…
Sam's way, an otherwise good restaurant, healthy and fun cuisine, fresh products exclusively french and local, short cycle. Farmers next door meat, ethical and respectful of animal welfare and the planet. Aromatics, condiments and some vegetables picked from "our vegetable garden 100 permaculture and 0 chime". But above all, Sam's way, flavors, a new gluttony sharing, not to mention some traditional dishes! Sam's way team is waiting for you…
Farm products to be found at…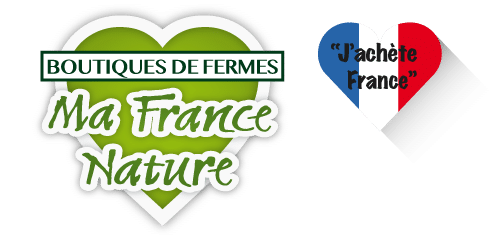 find out more
About sensiculture…
Sensiculture is an agriculture of common sense, sense and meaning. It traces to the past, sometimes distant, techniques and knowledge often forgotten, but which remain beneficial and it uses at the same time new scientific and technical knowledge. The sensifarmer refuses dependence on a system or a lobby that deprives the consumer of healthy French products and prevents producers from living decently from their trade, confiscating their autonomy, their freedom sometimes their integrity. Sensiculture respects man, animal and planet, it makes sure to explain educationally what it undertakes in order to offer real information to consumers and the whole value chain of our trades.
Sensiculture specification
(general rules to which the sensing people adhere to)
Do everything possible to avoid the use of chemistry or unnatural methods. Training in natural preventive methods

Respect the law

Maintaining the autonomy of work on its operation with all the power of decision to buy, sell, production

Achieving an accounting result that allows you to make a living from your job

Choose species or breeds based on sensiculture objectives

To carry out work on the elimination of pollution of all kinds that could harm the health of living things (pollution of water, soil, air, and electric or electromagnetic pollution…)

To carry out work on reducing energy-intensive operating stations.

Train to receive the public and explain our working methods, goals and results in education and transparency
The sensiculture for the plant
(special rules in vegetable production)
Do everything possible to store carbon in the soil,

Limiting water loss,

Energizing the life of the soil

Increase production to improve production/ecological footprint ratio
Sensiculture for animals
(specific rules in breeding)
Have animal nutrition consisting of at least 98% non-imported products

Ban industrial foods

Working to respect animal welfare

Be trained in nutrition to control your own production independently

Respect this specifications and contractually accept a financial penalty provided for in case of non-compliance
find out more
The Sam's way charter
Prefer and choose our producers in sensiculture

Focus on our own production, animal and plant

Know our producers and suppliers personally

Always progress towards home and seasonal products

Focus on the local and sort our products

Focus on "healthy" products and harmonize our compositions in a quest for dietary balance.
Evolve our concept on this first year for even more autonomy and short circuit.

Create events in line with Sam's way concept. Example: permaculture day, gastronomy and health day, botanical day, evening trip in the world, discovery of sensiculture in breeding, cultivation, market gardening…

And keep a nice place for more traditional and simply popular events: such as meat on a spit, cabbage soup, bocce, various tastings, music and songs, fishing, various presentations
Coming to Sam's
La Marguetière
Let's get in touch
contact@chezsam.com
+33 (0)4 15 40 09 29
Sam's way, La Marguetière
03120 Andelaroche
Coming to Sam's
From N7: exit No.58 Follow dir Andelaroche to La Marguetière
From D990-D994 on the right, Dir St-Martin d'Estreaux to La Marguetière
Timetables:
Reception desk and bar
Monday to Saturday: from 8 a.m. to 10 p.m.
Sunday: 9 a.m. to 9 p.m.
Reception desk closed during the break: 3pm/6pm
except by appointment
Service
Every day from: 12 p.m. to 2 p.m. and 7 p.m. to 9 p.m.
Breakfast
From 7am (earlier on request at reception)